BIOGRAPHY
Seven Eleven was founded in 1987 by former bandmembers of the Savannah Fun Brigade. The first Seven Eleven recordings were released on cd in 1989.
1990 – 2000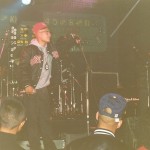 In 1990 the band teamed up with Dope Posse, a hiphop crew from the southern part of The Netherlands, and merged rappers and a funkband live on stage. A few years later the group refined their funk formula with a horn section.
After winning the Camelpop award in 1993 Seven Eleven recorded their debut-album 'The Come Out' in Studio Le Roy in Amsterdam with New York guitarist and producer Menace (Madonna, Bill Laswell, P-Funk) who also joined Seven Eleven on stage. The album was released in 1996 and received outstanding acclaims but no mayor label showed interest.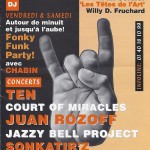 In 1999 Seven Eleven played at the Uncut Funk Festival in Paris and at the first Funk to the Max party in the Melkweg Amsterdam. In the same year the band started their own record- and publishing company. 'Unfunky B.I.T.C.H. / Say P-Funk' (1999) was the first single release on Seven Eleven Records. 'Get 'm down!' (2000) was the first album-release on the label.
2000 – 2010
Throughout the years the band's energetic live reputation grew rapidly and soon they appeared on stages and festivals in Germany, Belgium, France, Switzerland, Austria, Spain, Italy and Lithuania. In 2001, 2002 and 2004 Seven Eleven played at the North Sea Jazz Festival.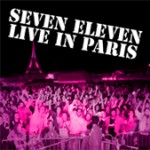 The best known album 'Hot 'n' funky', featuring special guests Brainpower and Fred Wesley, was released worldwide in 2003/2004 by JJ Tracks/Challenge Records. A few years later a hot live recording of the bands concert at La Fête de l'Humanité in 2004 appeared on cd in 2006 as 'Live in Paris'.
This decade Seven Eleven played and recorded with funk-related artists such as Fred Wesley (James Brown, Parliament), Mudbone Cooper (Parliament, Bootsy's Rubber Band), Dawn Silva and Jeanette Washington (Brides of Funkenstein), Mike 'Moon' Rueben (Bernie Worrell and the WOO Warriors) and Louis Johnson (Brothers Johnson).
2010 – present
In 2012 Seven Eleven celebrated their 25th anniversary with the anthology '25 years and still funkin". A jubilee-tour starts in May 2013.